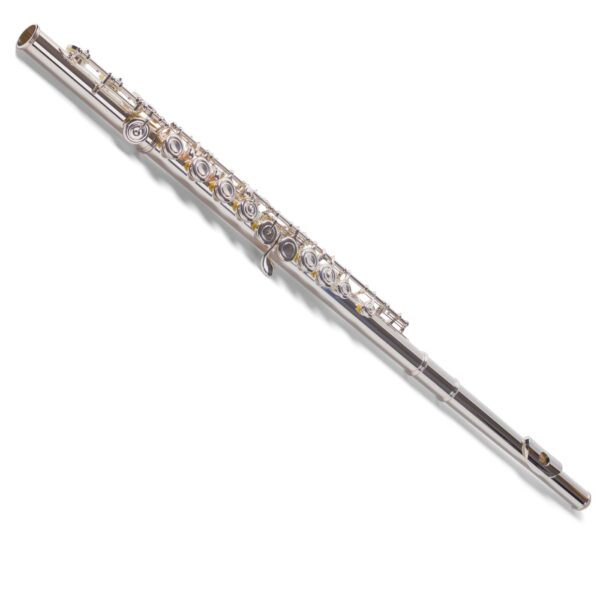 Bar Association Website Developer
Websites for Bar Associations
What sets us apart from our competitors?
For over 18 years, we've been pioneering the development of custom law firm websites. We now offer this experience to bar associations as a bar association website developer.  With a wealth of experience and an attorney-led team, we have the unique insights and expertise to navigate the complexities of your field and create a website that precisely meets your specifications.
With Esquire Interactive, you're not just hiring a website developer; you're partnering with a team of experts who have the same drive, passion, and commitment to legal service as you do.
Transform your digital presence with the online platform your bar association deserves.
Attorney-Led Marketing Agency. As attorneys, we understand the ethical concerns and the precision required in every aspect of legal marketing. We channel this knowledge into creating websites tailored to your bar association's unique needs and ethical requirements.
Affordable Rates. Our prices are far below our competitors.
Customization: We can provide custom solutions tailored specifically to the needs of your bar association, including member directories, event calendars, continuing legal education (CLE) platforms, and other content.
Member Engagement: We create a website that facilitates member engagement, making it easier for members to access resources, news, and updates.
Featured Bar Association Website
______________________
Winnebago County Bar Association
The Winnebago County Bar Association (https://wcbarockford.org/) retained us with the goals of increasing membership, streamlining the dues payment process, and managing association events, particularly matters associated with event registration, event payment, invoice and reminder matters, and additional matters such as meal choice selection for events that have meals.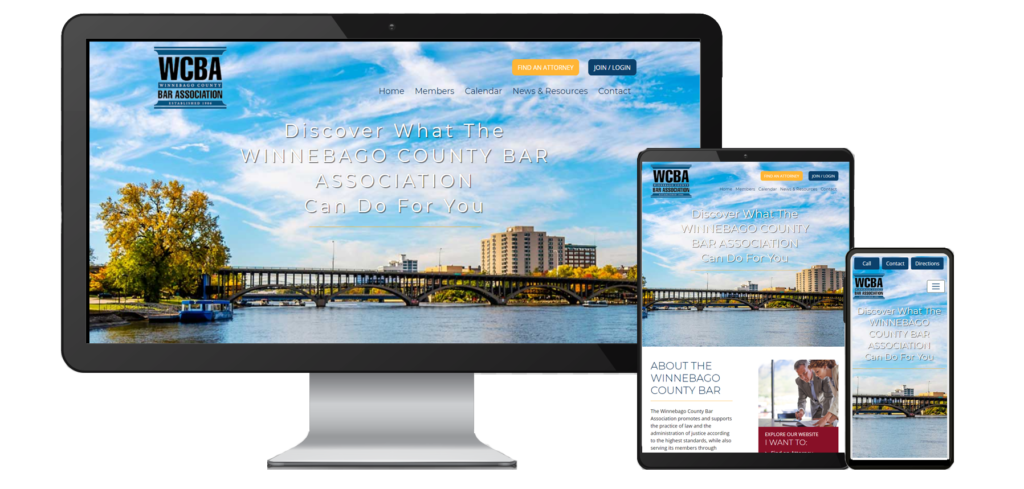 The Bar also wanted to feature members, and make it easy for website users to find members and get their contact info and see their areas of practice. Lastly, the Bar wanted to implement an enhanced listing feature that would provide greater member visibility for a small additional fee.

We incorporated specialized features into the design, including:
Upgraded Profiles for Attorneys: Recognizing the importance of personal branding for attorneys, we offered the option of upgraded profiles. These profiles allow attorneys to showcase their qualifications, experience, and areas of expertise, giving them a distinct advantage, while offering an added revenue stream for the WCBA.
Reservation and Payment Systems for Bar Events: Managing events is a critical function of bar association websites. We incorporated a seamless reservation and payment system. This system allows members to register for events and handle payments directly through the website, simplifying the process for both the members and the association.

Easy Member Management in CMS: Our design also included an intuitive Content Management System (CMS) that allows for easy updating of member information, renewals, and management of member access to the website.
Members-Only Portals: To provide an exclusive space for members, we created a members-only portal. This portal hosts special information, resources, and event details accessible only to members of the bar association, thereby adding value to the membership.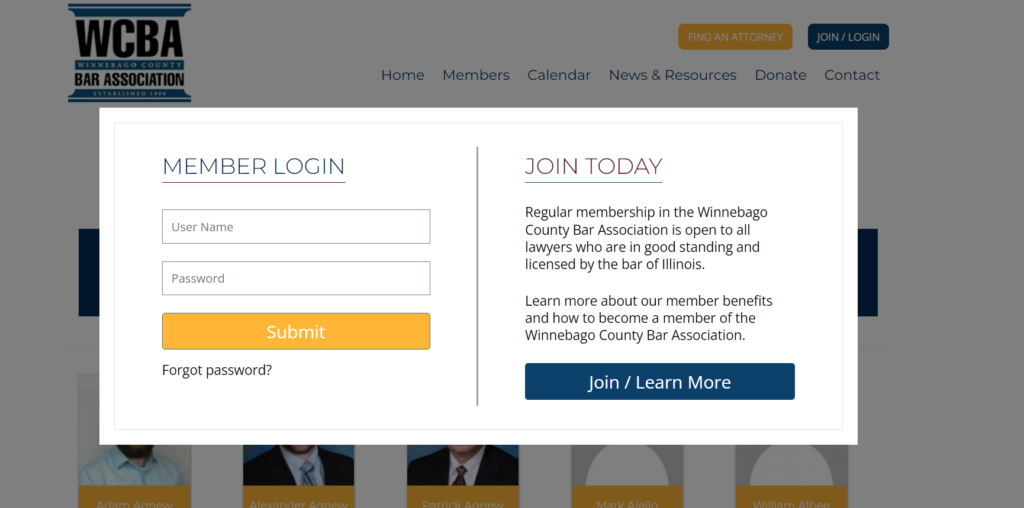 The Winnebago County Bar Association website, with its member-focused design and functionality, stands as a strong example of what Esquire Interactive can achieve for your association. We can create a website that not only serves your members effectively but also drives your association's growth and revenue.
Bar Association Website Design and Development FAQs
Bar association websites have a distinct set of requirements that differentiate them from general websites. These unique features cater to the specific needs of the legal community and are centered around three primary aspects: structure, content, and ethical considerations. As bar association website designers with nearly two decades of experience, we create compelling websites that address each of these aspects.
Structure and Functionality
The architecture of a bar association website is designed to facilitate a multitude of member services. These include:
Member Directories: A bar association website often hosts a comprehensive, searchable directory of its members, enabling users to easily locate legal professionals within the association.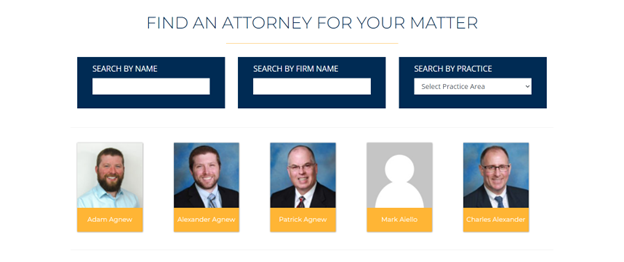 Member Communication Through Emails. We provide bar association directors with the ability to easily send emails to all current bar members on a wide range of matters, including judicial updates, upcoming events (including CLE presentations), and other matters.
Event Calendars: To keep members abreast of upcoming events, meetings, and Continuing Legal Education (CLE) opportunities, these websites often feature integrated calendars.
Event Registration and Payments: Bar associations often offer events that require registration and payments. We integrate solutions that allow members to sign up for events, choose customized offerings (such as meal selection), and make payments (with registration confirmation and emails).
Secure Member Areas: A typical feature of these sites includes secure, members-only sections where confidential information can be accessed.
Online Payment Systems: For easy payment of dues, event registration, and other fees, bar association websites often incorporate secure online payment systems.
Content
The content hosted on a bar association website is typically focused on: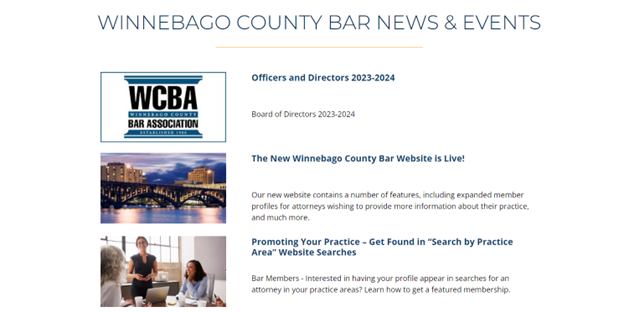 Legal News and Updates: To keep members updated on developments in the legal field, bar association websites often host news sections, legal updates, and blog posts.
Sponsored CLE Events: Most bar associations also host a number of CLE events throughout the year. It's important to communicate with members concerning these matters.
Legal Resources: From legal forms and templates to detailed articles and case studies, these sites provide resources that support the professional development of their members.
Ethics Opinions: Ethics opinions, guidelines, and other regulatory information are often provided to help members adhere to professional standards.
Ethical Considerations
Perhaps most notably, bar association websites must adhere to strict ethical guidelines as an outreach of the individual attorneys, particularly what information is shown on member profiles. This means ensuring that the content, advertising, and other forms of communication on the site align with legal ethics rules. An understanding of these ethics rules is essential, as non-compliance can have serious consequences.
Developing a compliant website requires a blend of technical knowledge, understanding of the legal profession, and awareness of ethical regulations — qualities we at Esquire Interactive bring to every project.
We understand the need for robust, secure, and user-friendly bar association websites. Our websites are highly secure, and in addition to firewalls and other security features, we also implement Wordfence premium security to block non-US visits based on IP address blocking.
We make bar association website management easy with our proprietary ePRESQ™ platform, which is integrated into WordPress. Our development is mobile-friendly and designed with the specific needs of lawyers in mind. ePRESQ™ simplifies website management, allowing website owners to easily update content and to add new pages, events, PDFs, videos, and other content.
Search Engine Optimization, commonly known as SEO, is the process of improving the visibility of a website or web page on a search engine's unpaid results, often referred to as "natural" or "organic" results. All websites we design are optimized for search engines.
Effective SEO is crucial for any website as it significantly impacts how high a site ranks in search results. A higher ranking often translates into more visibility and increased traffic to the website, contributing to the site's overall success. SEO involves various techniques and strategies, including using relevant keywords, enhancing website speed, and optimizing the site's design to make it more appealing to search engines.
We understand the importance of SEO and high Google rankings for your bar association's website and member profiles. We build optimized websites, ensuring that content, structure, and design meet the best practices for SEO.
Our SEO approach includes strategically embedding relevant keywords in your content, optimizing your site's speed, ensuring it's mobile-friendly, and using a clean, responsive design. These efforts help improve website ranking on Google, which will help member profiles to appear as an additional search result listing, making it more likely for potential members and the general public to find your association when they search for relevant terms.
Importantly, member profiles can also be optimized, which can lead to being found by prospective clients and new client development.
If you're looking for a website developer for your bar association or legal association, please contact us.
We offer a free consultation so that we can discuss your bar association's specific needs, goals, and vision. During this consultation, we'll discuss your website objectives, address any questions or concerns you may have, and provide insights into how we can help create an exceptional online presence for your bar association.
If you are interested in finding out more about our bar association website design and development services, we invite you to call our office at 520-261-8645 to schedule a free consultation.
Looking for More Information About Our Websites for Law Firms & Attorneys?
Click one of the links below for more information about our custom and semi-custom websites and the ePRESQ™ platform: