Google My Business Management for Law Firms
What is FirmLocal™?
Amplify reviews. Boost local rankings. Increase leads & conversions
Google My Business ("GMB") has exploded, making it one of the most powerful tools for legal marketing.
Secure your place in the Google 3-Pack & Increase Leads with the help of FirmLocal™.
amplify reviews. boost local rankings.




increase leads & conversions.
FirmLocal™ can help you:
Increase Your Firm's 5-Star Reviews
Improve Your Online Reputation
Move Up in the Local Google Rankings
Improve Your Chances of Being in the GMB 3-Pack
Increase Engagement
Enhance Leads & Conversions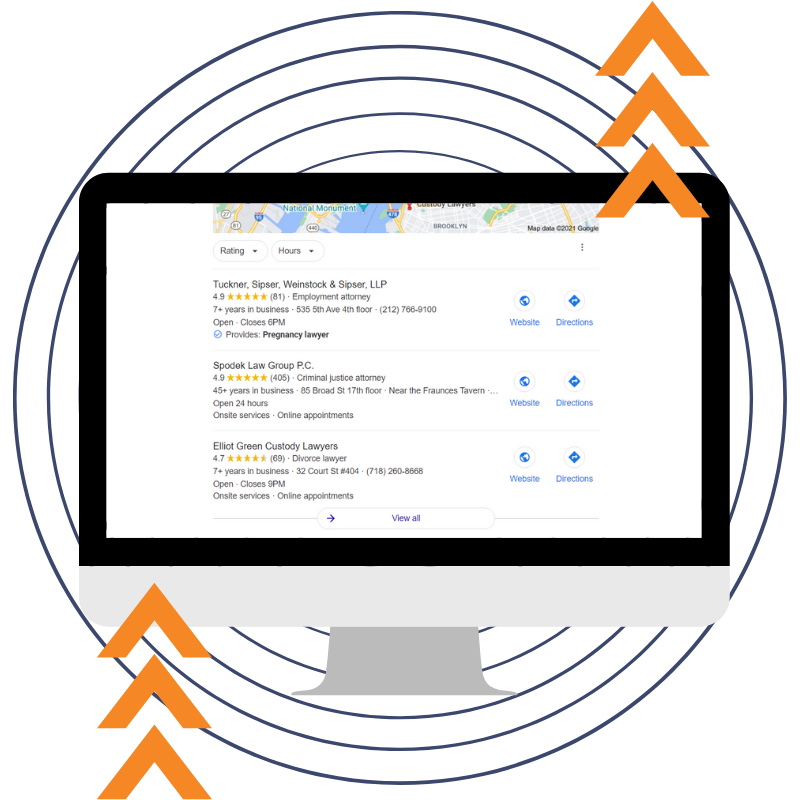 What is GMB for Law Firms?
_______________
Every law firm should have a Google My Business (GMB) profile. GMB is Google's official local business directory that enables the search engine to display accurate information about your law firm whenever someone performs a search.
It also prominently features local firms in a special section, known as the 3-Pack, and allows lawyers to easily connect with customers across Google Search and Maps.
A law firm can post photos, events, or offers to their profile, showing what makes them unique and giving clients reasons to choose them every time.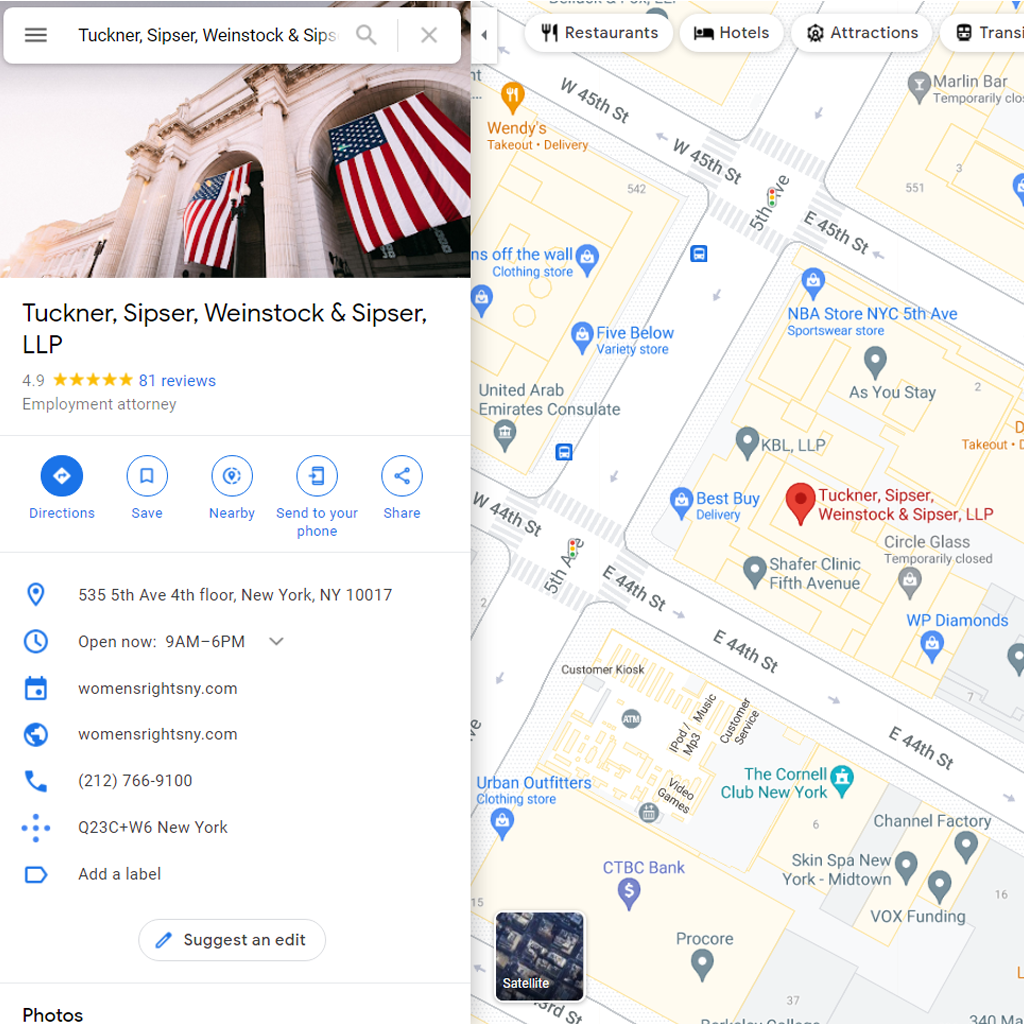 What's the GMB 3-Pack?
_______________
GMB features a Google Maps "3-Pack" of local law firms at the top of the search results. Nearly 70% of clicks go to firms featured in this 3-Pack, meaning securing one of these spots can have a significant impact on leads and conversions.
Google uses a complex algorithm to determine who appears in the 3-Pack. Firms must fulfill a laundry list of factors to make it on the list (e.g., optimize their profiles, post weekly, maintain high reviews, respond quickly to Q&As, post photos frequently, utilize local SEO, etc.)
FirmLocal™ optimizes law firm GMB listings to help secure a coveted 3-Pack spot & increase leads.
Law Firms That Show Up In Google's Local 3-Pack Get Nearly
70% Boost in Clicks
Download Our FREE GMB Q&A White Paper to Learn the Secrets That Are Helping Firms Reach the 3-Pack.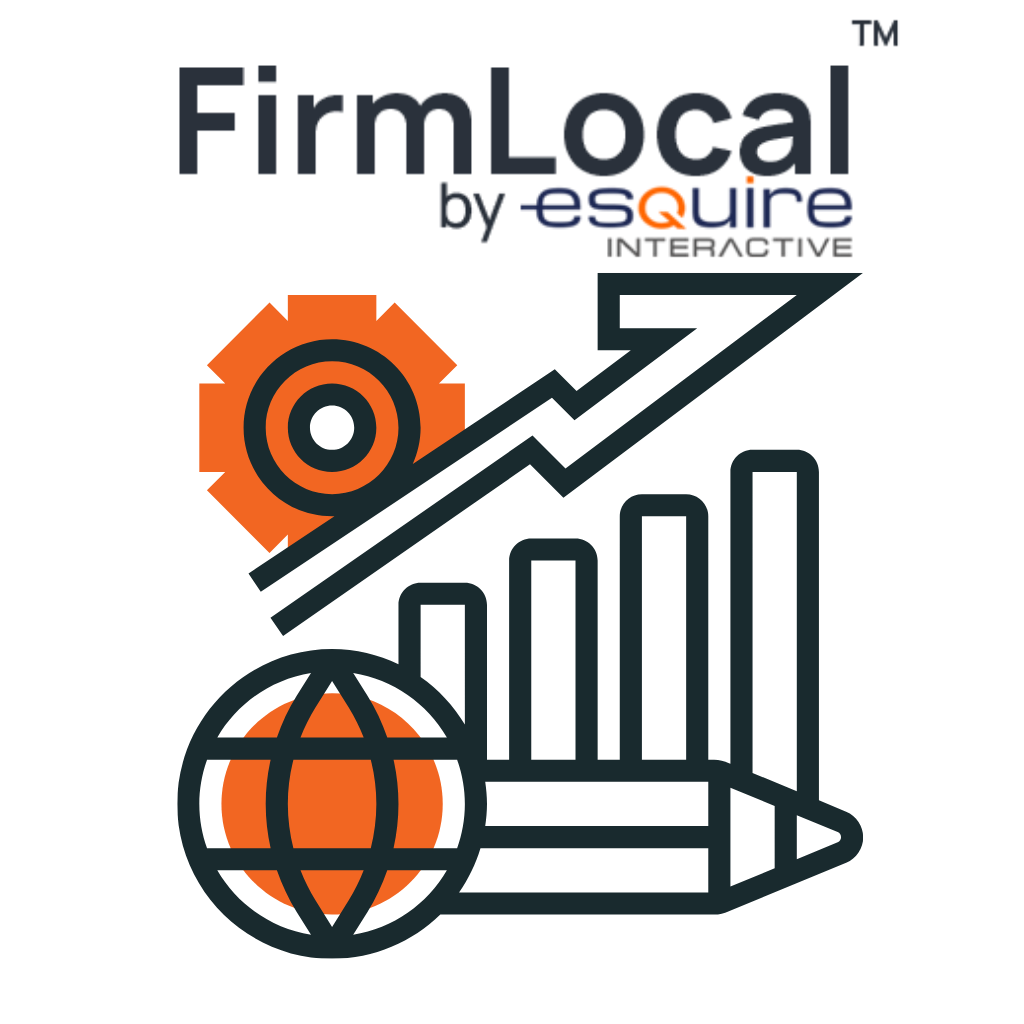 What We Do – Our Google My Business Management
Listing Creation
Star Rating & Review Building
Customized Ranking Strategy
Weekly Posts
Active Reputation Management
Monitor & Decrease Competitor Spam
Benefits of FirmLocal™
IMPROVE SEO
FirmLocal™ is specially designed to improve your local SEO and GMB profile for overall improved search results. When we optimize your listing, we not only target top-ranking factors related to your firm's presence but also utilize off-page optimization techniques to gain additional traction.
ONGOING PROFILE MANAGEMENT
It is critical to strategically manage and optimize all GMB features to gain a competitive advantage. As a Google My Business management company with nearly two decades of experience, we make use of every available feature & stay on top of monthly upkeep to ensure your firm ranks as highly as possible.
STAR RATING BUILDING
The amount of reviews a firm has impacts 3-pack ranking. We create custom strategies to increase the number of 5-star ratings & reviews across critical platforms (e.g., Google, Avvo, Martindale, etc.).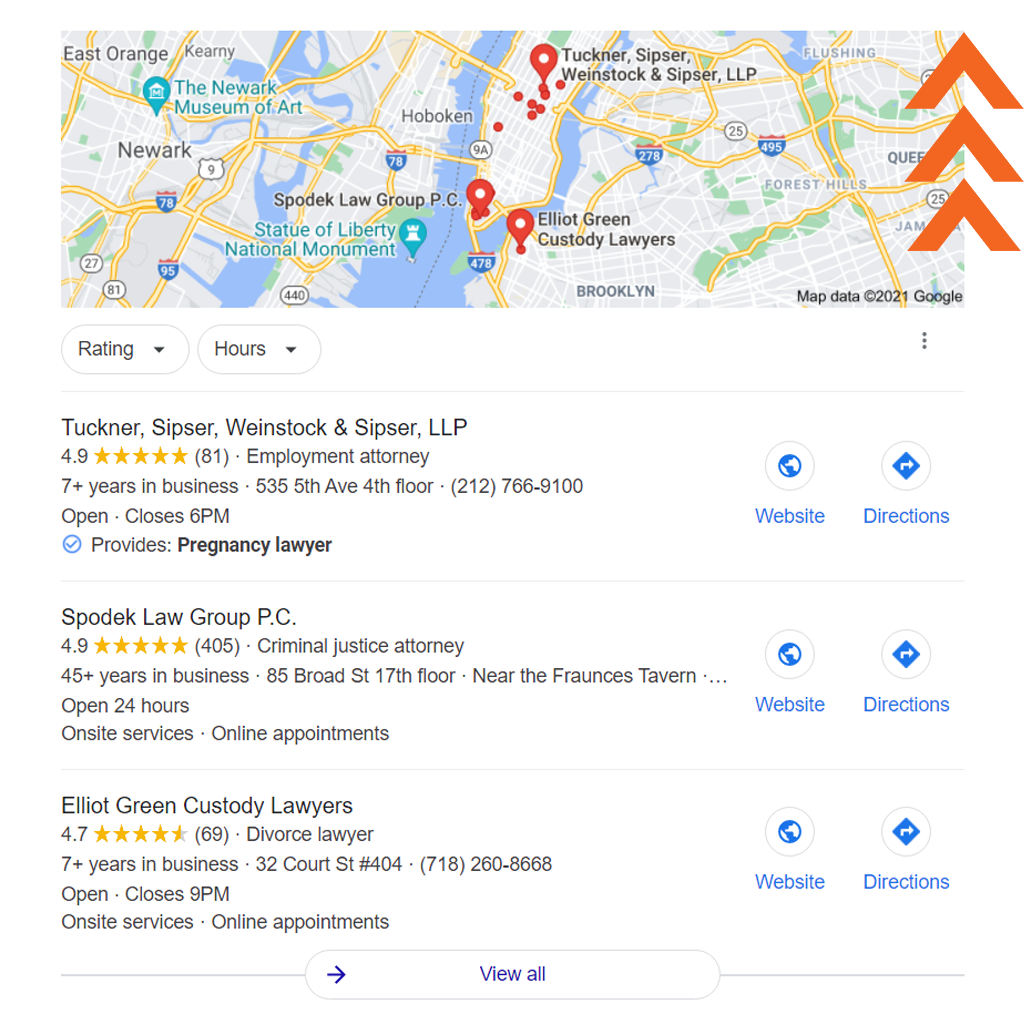 3-PACK STRATEGY
Being listed in the local 3-Pack can equate to a significant revenue increase. We use all available tools to increase your chances of being prominently & consistently featured in these local search results.
GEOTAGGING
Geotagging can help prospective clients find a variety of location-specific information from a device. We ensure your content is geotagged to increase visibility in local search results.
WEEKLY POSTS
Google Posts is a special GMB feature that allows firms to create engaging posts with content on current specials, blog posts, events, new services, etc. We create weekly posts that help increase engagement to build your business.
LOCAL SEO
Posts that utilize local SEO keywords can improve a firm's GMB rank. We work with you to target specific keywords that drive relevant traffic to your profile, while appropriately branding your firm.
RELATIONSHIP MANAGEMENT
Google reviews and Q&As are powerful features that merit special attention because of their prominent placement on GMB profiles. FirmLocal™ helps ensure timely responses are given so you can build client relationships & maintain engagement.
QUESTIONS & ANSWERS
We anticipate clients' needs by getting Q&A answers published before prospective clients even have the chance to ask, ensuring no time is wasted.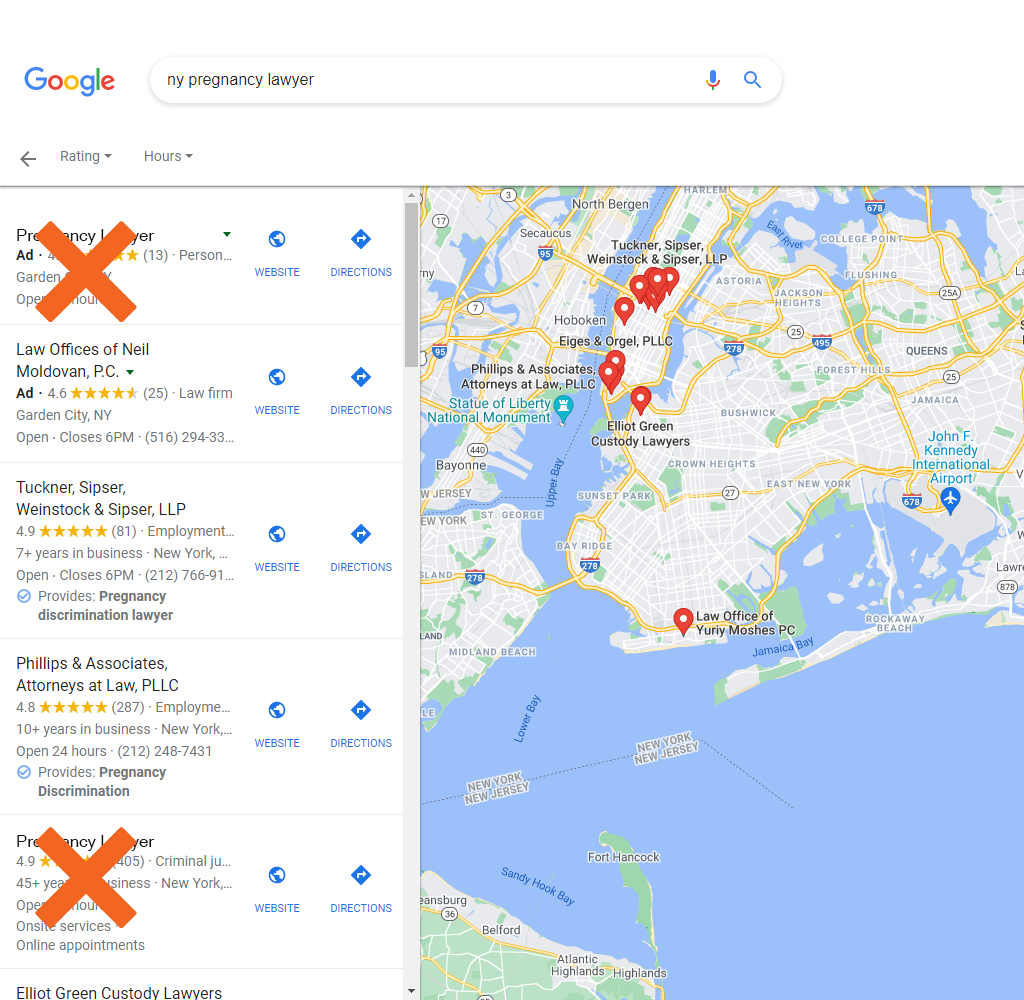 SPAM MONITORING
We regularly review the GMB landscape, checking for fake addresses, keyword stuffing, virtual office, and other unethical practices.
UNFAIR COMPETITION ELIMINATION
We help eliminate unfair competitors, opening up new ranking opportunities for your firm.
How FirmLocal™ Compares.
Compared to Other GMB Management Agencies
Proprietary Review Building Application
You'll Work with Attorneys; We Understand Your Practice
We Only Work with Law Firms
We Actively Identify & Knock Out Spam
We Offer Personalized Law-Firm Specific SEO Strategy
US
$299/mo
(no long-term contract)
versus
THEM
$399+/mo
Google My Business Manangement for Lawyers FAQs
Absolutely! Our primary goal is to help firms get and stay in the GMB 3-Pack.  Our strategies are always focused on increasing rankings.
With FirmLocal™, you'll receive a comprehensive analytics report at the beginning of every month, so you can track your GMB progress & growth.  If you are interested in receiving comprehensive analytics reports for all your firm's marketing platforms & initiatives, ask us about FirmMetrics™, our all-in-one law firm analytics service.
No, we do not charge a setup fee for our service. FirmLocal™ is available for a flat fee of $299 per month, no strings attached!
No.  FirmLocal™ is a month-to-month service with no long-term commitment, meaning we are so confident in our GMB management services that we are sure you will continue to work with us for a long time.  You can cancel at any time.
Fill out the form below to get started. We'll reach out to you to schedule a consultation and send out a link with a questionnaire so we can learn more about your firm.