Google Screened for Lawyers and Law Firms
Get Your Law Firm Google Screened Listing
Only $575 for Listing Creation!

What Is Google Screened for Lawyers?
With Google Screened for attorneys, you'll be shown at the top of the search results with the Google Screened "checkmark" icon. You pay only if a person calls or contacts your firm.
Google Screened helps law firms build trusted reputations online.
The Esquire Interactive Google Screened Advantage
WE PROVIDE
Full listing creation around your practice areas and the geographic area served by your law firm
Professional advice concerning bidding and geo-targeting
Your questions answered
Pay only for phone and/or message leads (not clicks)
Ability to contest charges with Google for unqualified leads
ABOUT US
Led by a former "big law" attorney and aerospace defense GC, we've served hundreds of lawyers over 12 years
We currently manage thousands of dollars of monthly spend for law firms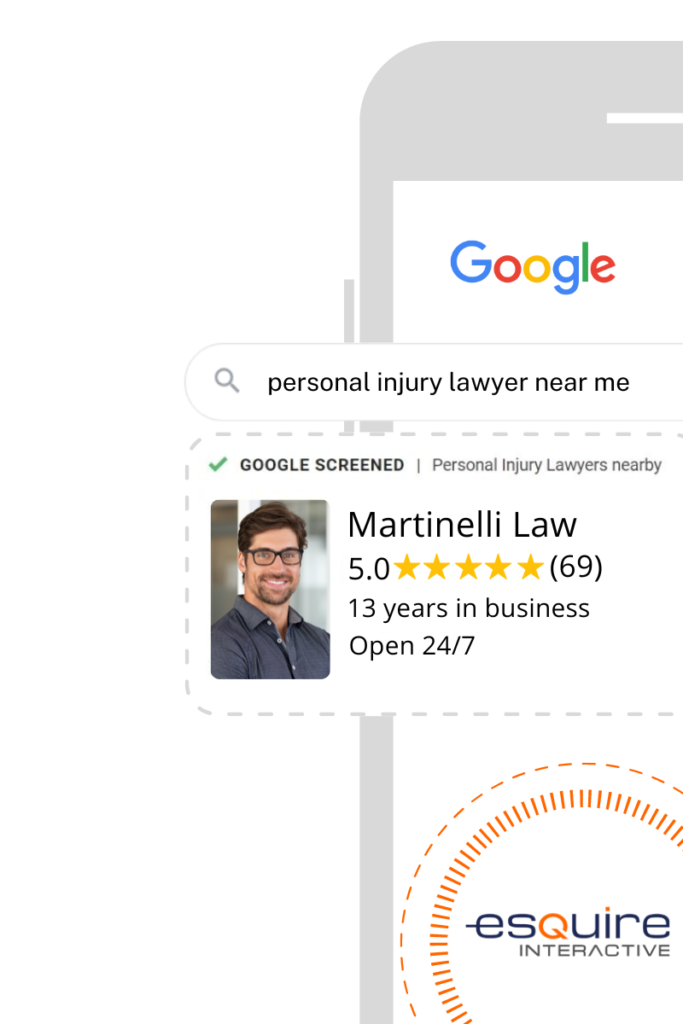 Don't Pay $2,000+ Per Year in Ongoing Agency Fees!
Other agencies charge $2,000 or more per year (often $200+ per month) for ongoing "services," which typically is not anything more than a simple report that Google already provides to clients.
We provide feedback, recommendations, and suggestions on an as-requested basis for clients at an hourly rate (no ongoing commitment).
Get the help you need to create and optimize your listing.
Is Google Screened is Right for Your Law Firm?
Download our free 5-page Question and Answer White Paper, which provides an overview of how Google Screened works, the ethics matters that are critical to the practice of law, and vital information that you need to know.
By signing up, you agree to be included on our email list.  Of course, you can always opt out at any time.